Introduction
The aim: To reduce the use of virgin materials in the production of clothing.
The expected outcome: Saving water, energy and less clothing going to landfill and incineration.
Nine companies, from fashion brands to work-wear companies and from children's wear to hotel linen, started an innovative pilot to recover fibres and turn them into new garments.
Details and results of these pilots are detailed below in the form of a case studies. Each contains the percentage of recycled post- and pre-consumer fibres, the material used, which garment was made and the producing country.
Guidance tool
We have also developed a more extensive guidance tool which provides an overview of relevant issues and links to useful resources. Topics covered include learnings from pilots, policy and market developments. It has been created to inspire others to take action in creating a circular approach to textiles and is aimed at professionals working for the textiles industry, including designers, fashion brands, retailers, workwear suppliers and textile recyclers. 
Case studies
Production of denim jeans made with 17-20% recycled cotton. View ASOS case study.
Production of bed sheets made from fibres of recycled cotton – 15 % post-consumer (old sheets), 35 % industrial cotton waste, 30 % cotton and 20% polyester. View Blycolin case study.
Production of workwear aprons made from 10% post-consumer recycled cotton, 10% industrial cotton waste and 55% recycled PET  and 25% cotton. View HAVEP case study.
Production of denim for children, women and men made from 20% post-consumer jeans, 79% bio cotton and 1% elasthan (originating from PET bottles). View JBC case study.
Production of trials in a jersey collection for children, denim and jackets. Jackets were then taken into full production which included polyester made with 43% post-consumer and 57% virgin material. View Moodstreet case study.
Production of workwear t-shirts, polo shirts and blouses made from 30% post-consumer textiles (mixed PET & cotton), 20% industrial textile waste (cotton) and 50% PET (from bottles). View Schijvens case study.
Production of polo shirts for Dutch State Forest Agency made with 10% post consumer recycled cotton and 40% industrial cotton waste and t-shirts made with 10% post consumer recycled cotton, 40% industrial cotton waste and 50% recycled polyester. View TRICORP Workwear case study.
Production of knitted products made from 50% post-consumer recycled cotton and 50% Tencel. View WE Fashion case study.
Production of jackets made with 5% post-consumer wool from discarded suits (Suitsupply) and 5% industrial textile waste (wool) 90% virgin merino wool. View Suitsupply case study.
Fact sheets
We have developed a number of fact sheets outlining lessons learnt under seven issues that are important if companies start using recycled fibres. These lessons deal with how to find internal and external support and cooperation, organise communication or logistics and address issues like design and quality of the garment. Many companies also looked at new business models.
The fact sheets available so far are as follows:
Internal support – fact sheet can be found here
Cooperation – fact sheet can be found here
Communications – fact sheet can be found here
Logistics – fact sheet can be found here
Quality of fibre – fact sheet can be found here
Design – fact sheet can be found here
Business models – fact sheet can be found here
Pilot summary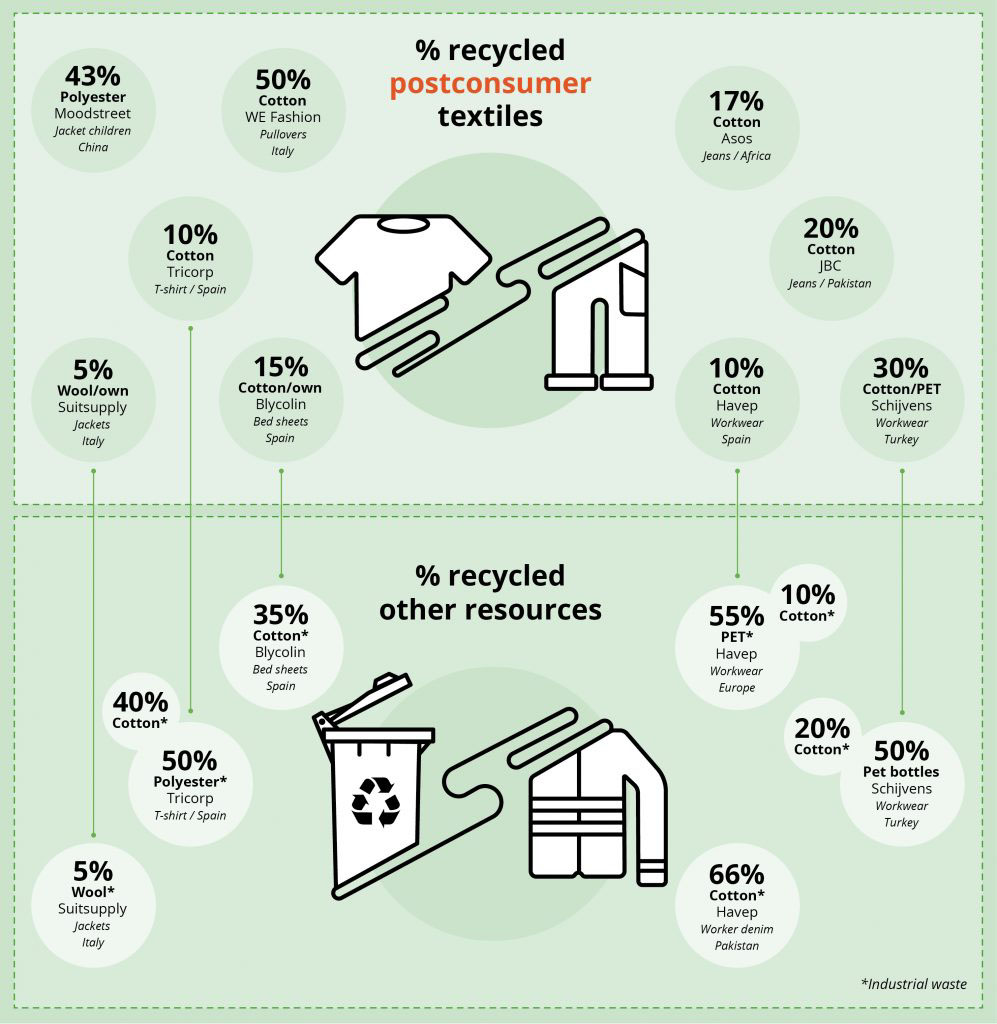 Environmental impacts were calculated by REMO and consider the substitution of virgin into recycled fibres. Other potential environmental benefits were not included (e.g. no bleaching or dyeing) and the calculation did not consider differences between fibres originating from post-consumer textiles versus industrial textile waste, so these were additional savings.
Why take action
As the worldwide demand for sustainable textiles is growing, fibre recovery is an important way of minimising our environmental impact.
Key findings, results and impacts
Denims is the front runner in the field of fibre recovery. Not only did several pilots produce denims with recycled content, but others also used denims as a source to produce different garments
Pilots included a combination of post-consumer and industrial material waste
The wide range of percentages and materials used show how circular textiles can grow in the near future
Communication with customers is incredibly important to create demand and a robust business model
Supply chain cooperation and knowledge are key to success
Integration into existing processes is important
Collectors and recyclers are very different to designers and brands so to enable working together this needs to be understood and addressed
Track and trace and take back schemes are key to building circularity
Legislation of 'waste' export is key.
Details of the fibre to fibre recovery pilots were also showcased at the Cirular Textiles – Ready to Market event In Amsterdam on 15th February 2019.