Influencing production practices
Introduction
The aim: To influence production practices within the supply chains of European brands and retailers, to reduce pre-consumer waste (materials leftovers).
The expected outcome: Valuable use of material leftovers, through re-manufacturing and recycling solutions.
Why take action
The issue of pre-consumer waste is an area with limited understanding at present. In order to close the materials loop, it is necessary that we understand it in more detail. Research suggests that up to 25% of pre-consumer waste is being 'spilled' at early stages of production.
Although there is evidence that these materials get used somewhere, most materials get down-cycled, incinerated or dumped.
The material waste could be better utilised including re-manufacturing, replacing virgin fibres and recycling back into textile and other sectors.
Finally, there is a need to increase the awareness of the material waste, as brands and retailers have little to no visibility of the pre-consumer textile waste arising within their supply chains.
Key steps
Establishing a delivery partner – Our ECAP partner MADE-BY formed a partnership with Reverse Resources to enable delivery of the action area within the supply chain.
Scoping work – The scope for work was informed by research

carried out by Reverse Resource on a site visit in early 2018 to two factories operated by a major clothing manufacturer in Sri Lanka, in order to identify, trace, and analyse their production leftovers.

Engaging brands and retailers – Engagement was targeted at both apparel brands and retailers and apparel manufacturers. The intention was to customise the project to meet the individual needs of each participant. Customisation could have included:

Re-manufacturing trials – Re-manufacturing is the process of reincorporating leftover fabrics (18in – 5 yards / cut end pieces) back into subsequent purchase orders that are scalable and applicable in mass production
Recycling trials: Using a matchmaking service and information to link leftover materials from the factory to a recycling partner
Pilots working with brands and their suppliers to start tracking and creating visibility on their leftovers.
Despite interest from some stakeholders, there were no signed up participants to this action at the time when MADEBY went into liquidation in late 2018 and the ECAP consortium was unable to take on the delivery of this action area.
Key learnings
Despite the fact we were unable to continue with this action, we did learn some information which could be beneficial to oganisations looking at post consumer waste. These include:
Engaging both manufacturers and their brand customers on the topic of pre-consumer waste was essential as it involved both the design function as well as the production function of the manufacturer. Others with the potential to improve the flow and transparency of the material leftovers, involve the textile collectors and traders, fibre recyclers and buying houses, spinners and fabric mills.
Feedback from ECAP stakeholders suggests that there was interest in gaining a better understanding on how material waste could be reduced and how fabrics could be re-used, but that typically training or guidance was not offered to suppliers in relation to garment construction, pattern cutting or production methods that supported minimal or zero waste.
Each supply chain is different and therefore requires a bespoke plan to tackle pre-consumer waste.
There are many current sector initiatives focused on tackling the issue of post-consumer waste and some brands have limited capacity to turn their attention to pre-consumer waste as they are trying to make progress and meet targets set in relation to post-consumer.
Within the UK, various Government's focus on the need for Extended Producer Responsibility (EPR) schemes is growing and may provide the necessary context for research and investment into solutions relating to pre-consumer textile material leftovers, both within and outside of Europe.
In addition, as sector initiatives progress in tackling preliminary circularity challenges, attention will need to turn to the topic of material circularity in order to find solutions not only for post-consumer waste but for the entire system in a holistic way.
Related resources
The Problem
Manufacturers producing textiles and clothes for many of the world's major fashion brands and retail outlets are "spilling" an average of 25% of virgin material resources, and it is unclear how much makes its way back into the supply chain.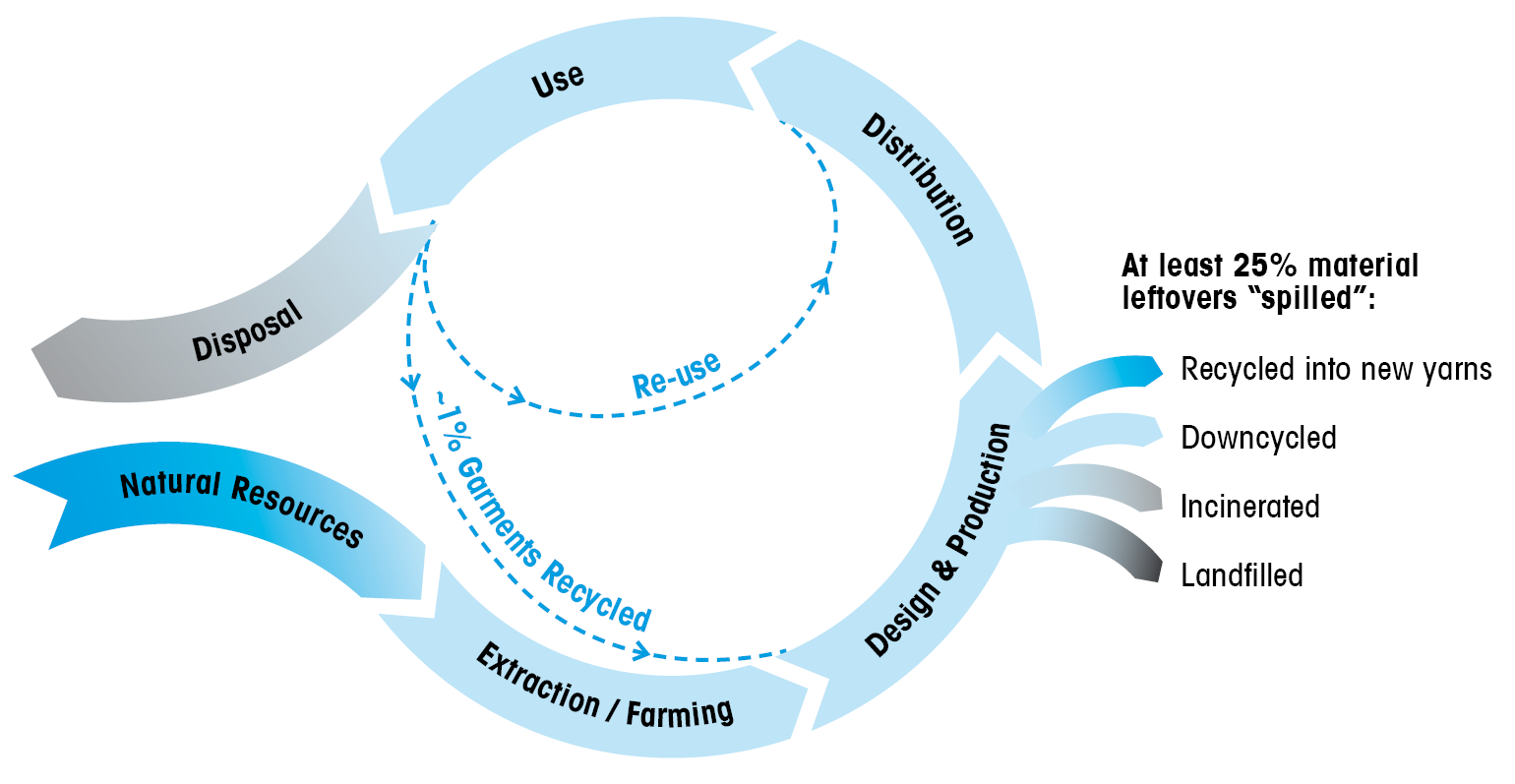 The Solution
Working with brands, manufacturers and other stakeholders such as fabric traders and recyclers, a new model can be developed that enables material leftovers to be optimised.
Putting in place the systems to effectively deal with pre-consumer material leftovers will enable the sector to effectively tackle post-consumer waste.